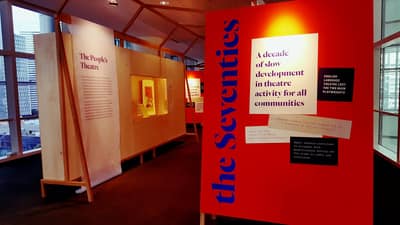 28 October 2016 – 26 March 2017 (CLOSED)

10:00am – 9:00pm

Levels 7 & 8, Promenade, National Library Building
Script & Stage explores the fascinating roots of local playwriting and theatre production, highlighting significant performances, playwrights and prominent theatre companies that have shaped the foundation of contemporary theatre in Singapore.
As we trace the development of Singapore's vernacular theatre communities from the 1950s to the 1980s, treat yourself to publications such as Keris Sempena Riau, the first sandiwara (Malay historical theatre) published and staged locally, as well as the manuscripts and drafts of acclaimed local playwrights like Kuo Pao Kun and Robert Yeo.
Not to be missed are showcases of notable local musicals, such as Beauty World (TheatreWorks) and Chang and Eng (Action! Theatre), at the lobby of the National Library Building.
31 October 2016 – 27 March 2017 (CLOSED)

Central Public Library | 31 October 2016 – 19 December 2016

Woodlands Regional Library | 20 December 2016 – 31 January 2017

Jurong Regional Library | 1 February 2017 – 27 March 2017
Delve into stories from traditional theatre found in Southeast Asia! Get up-close and personal with characters from the epic tales of the Ramayana, Mahabharataand and Chinese legends. Learn about the theatre traditions of wayang kulit (shadow puppetry), Chinese street opera and therukoothu (Tamil street theatre) through interactive displays at selected libraries around Singapore.
This exhibition is a roving component of Script & Stage: Theatre in Singapore from the 50s to 80s.
School Tours
Through guided tours specifically tailored for schools, students will discover facets of local theatre through the manuscripts, photos, posters and oral history records of local theatre and playwrights.
Worksheets will be provided for students during the tour. The activities in the worksheet are designed to enable students to learn the skills of critical analysis and show a greater appreciation for the art of theatre and playwriting.
Interested schools can send an email to visitnls@nlb.gov.sg for more details. Book early to secure a tour slot!
Programme has ended, registration is closed.